Jennifer's Step One Success Story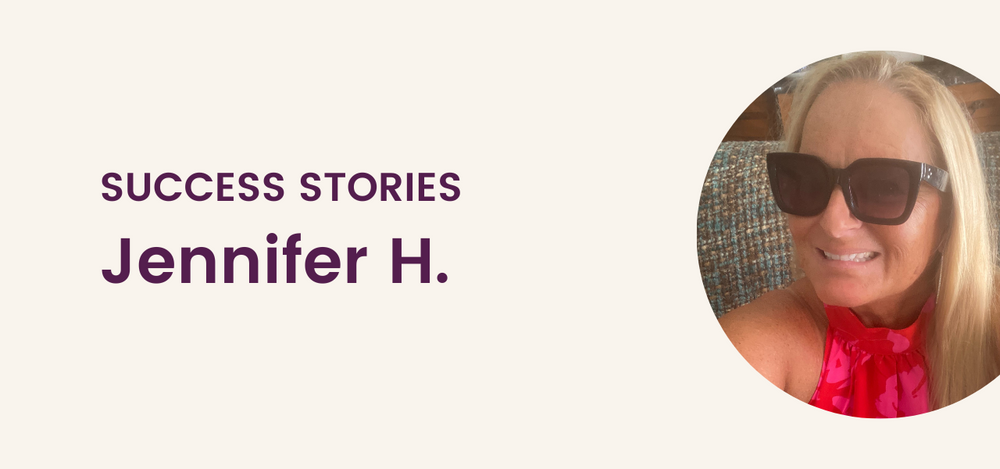 Most people who try Step One Foods are usually on a mission to lower their cholesterol, but for Jennifer this wasn't the path that led her to Step One products.

After hearing about her sister's success in lowering her blood pressure and controlling her blood sugar with Step One Foods, Jennifer decided to give the program a try.

"My sister, Faith, was seeking products for better health because she had issues with blood pressure, blood sugar, and other things, so she sought out Step One Foods," she said. "She achieved great success with Step One Foods and did all the hard work so I really just stepped into Step One Foods after seeing her success."

Jennifer purchased Step One products for her and her husband. They started the program 8 months ago with the goal of incorporating the products into their already active and healthy lifestyles.

"My number one crisis was my blood pressure," she said. "I could never get this under control. I am an avid athlete and I try to eat well, so I began eating 1 to 2 Step One Food bars a day."

To her amazement, Step One was able to help.

"I am in shock and I feel so much better," she said. "My blood pressure was normally 157/85 on a good day. It could get higher than that with stress. Currently my blood pressure is 115/65. And my cholesterol dropped 10 points!"

Now, she tells everyone she can about Step One Foods.

I actually recommend step one Foods to all who will listen, particularly my family," she said. "My husband and I are truly devoted to the product. The best thing about these products is that there has been no effort; I just eat and receive the blessing."

As an athlete, Jennifer and her husband already maintained a very active and healthy lifestyle and Step One fits perfectly into her current routine.

"With Step One Foods, my husband actually has lost 30 pounds and I have lost one dress size," she said. "Just wow! I know this next year my readings will be better. Then, 8 months ago I had a total knee replacement, home fire, and total home restoration. We were stressed to the maximum. The bars were helpful but we didn't get the exercise we needed. So cheers for overcoming."

Jennifer enjoys swimming, biking and walking her dogs. She finds joy in fellowship at Mesa Church in Irvine through social and charity events. Her favorite Step One product is the Dark Chocolate Walnut Bars. 
Get heart health tips and articles like this, delivered right to your email.