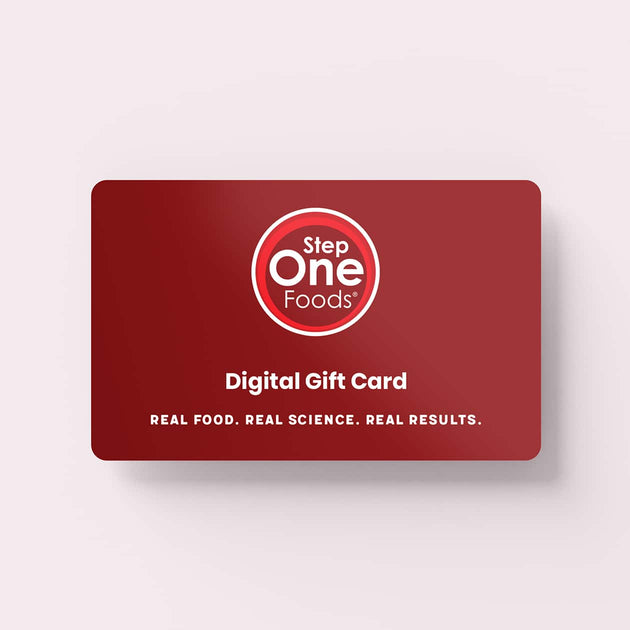 Step One Foods Gift Card
Shopping for someone else but not sure what to give them? Give them the gift of choice with a Step One Foods gift card.
Gift cards are delivered by email and contain instructions on how to redeem them at checkout. Our gift cards have no additional processing fees.

Frequently Asked Questions
Step One Foods products were developed by a cardiologist and have proven effective through a clinical trial subject to the same standards as a pharmaceutical clinical trial. Every serving of Step One Foods contains the precise levels of key nutrients proven to help lower cholesterol and improve cardiovascular health. Learn more about our clinical trial here.
Studies have shown that a change in diet can yield a significant impact on cholesterol levels in as little as 30 days. Effects on overall blood sugar control and weight will take longer.
No, if you are currently prescribed a statin by your physician, you should not discontinue it unless you consult with them. To most accurately assess how Step One Foods is impacting your cholesterol, you should take your statin in conjunction with Step One Foods twice per day. After 30 days of consistent use, you can test your cholesterol levels; if there is improvement (or even similar readings) you and your healthcare provider can discuss adjusting your prescription.
Step One Foods products are highly nutritious and very satisfying. High fiber content, complex carbohydrates and healthful fats ensure slow digestion and lower, steadier blood sugar levels, keeping you feeling fuller longer. Our foods are also meant to be used as a substitution for something you were eating before, which typically represents a calorie reduction and may lead to weight loss.  And nearly all Step One Foods contain minimal to no sodium. Studies have shown that when you reduce sodium consumption and increase the intake of antioxidants from fruits and vegetables, you can attain significant blood pressure reductions.
We want you to be happy with our products and your results. If you don't enjoy one or more of your choices, we will gladly provide you with an exchange or a refund. Our guarantee applies to first time orders, or up to one month's worth of food cost.