Ranking the Top Snack Bars: Which is the Healthiest?
When I set out to make my first bar, I knew every ingredient would have to be of the highest quality and have a healthful purpose.I quickly learned that this alone made us unique. It's not easy to find chia and flax seeds that don't taste fishy or overly earthy. And it costs a lot more to use real chocolate made with cocoa butter instead of palm kernel oil. (What IS easy is to use cheap ingredients and then add various syrups to mask bad flavors while helping to bind everything together - without ever considering health effects.)
So you may understand my frustration when other bars market themselves in ways that suggest they are healthier than they really are.
 But it's pretty easy to set the record straight. First, we are the only company to have done a formal clinical trial to demonstrate the health benefits of our bars. Everyone else is just making promises. Second, our nutrition metrics put us in a completely different league. Here's the straight-up, scientific comparison between my first bar, the Cranberry Pecan Bar, and another favorite, our Peanut Butter Bar, against some of the most popular alternatives: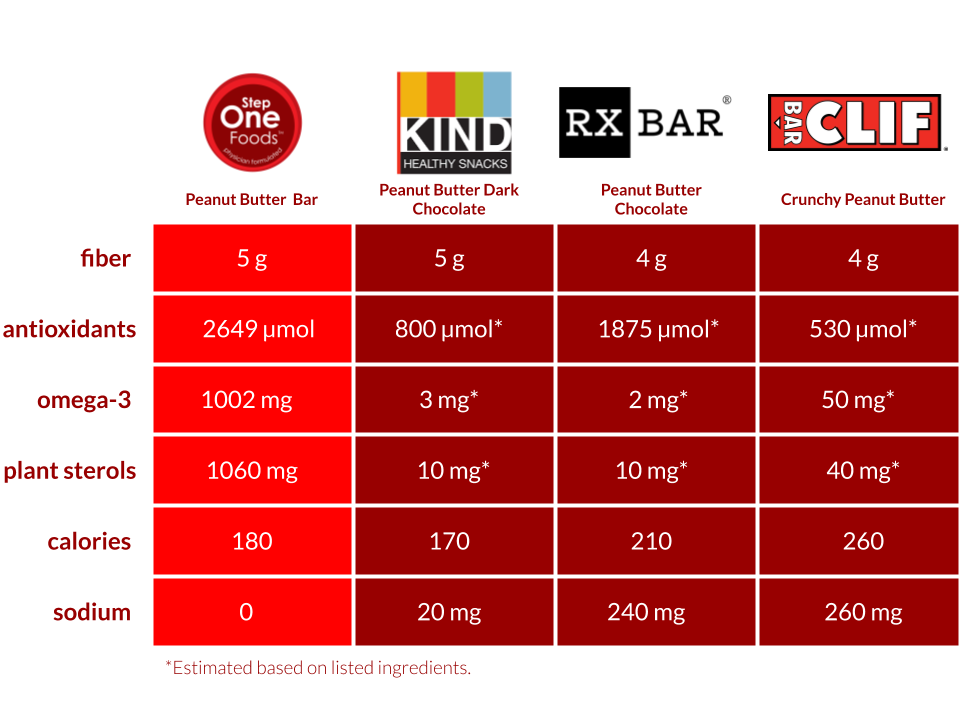 Of course, our goal at Step One Foods is quite different than that of any other food company. I created Step One Foods to improve the health of my patients. Nothing would make me happier than to be forced out of the doctor business because everyone started eating such great, whole, real, health-promoting foods.
And because we are all about health and outcomes, we use Saskatoon berries to superpower antioxidant levels, and we source purity protocol oats to up the fiber content…and we ditch those nutrient-poor but calorie-rich binders. In other words, we make our decisions based on nutrition and science, whereas others make decisions based on profitability and ease of production. 
We formulated our bars to deliver at least 10 grams of fiber per two servings and at least two grams of omega 3s - from whole food ingredients. Because science tells us that when these nutrients come from whole food ingredients, they have a measurable impact on health. 
None of the other bars contain plant sterols in any meaningful amounts, whereas we think that plant sterols are so important that every ingredient in our bars contains some -- and we add more to make sure people get enough of this ingredient to really impact health. 
Our bars also deliver no sodium. Check out Clif's Crunchy Peanut Butter bar, delivering a whopping 260 milligrams of sodium -- that's more than 10 percent of the recommended daily amount, and closer to 20 percent of what I recommend to patients. (Kudos to Kind for coming in second with 20 milligrams of sodium per bar.) It's one thing when sodium is unavoidable - because you need baking soda to help a dough rise for example - but those 260 milligrams are completely optional. So why are they there?
Finally, about the last thing we need are protein supplemented foods. And the evidence against consuming animal-based protein is mounting. So why is it a good idea to put dried egg whites into bars?
A company such as Rx or Kind or Clif can try to hide behind a health halo based on marketing…but a closer nutritional inspection would reveal that these bars fall short. 
That's a long way from every ingredient serving a health-promoting purpose. Let alone from proving your bars actually improve health. 
Get heart health tips and articles like this, delivered right to your email.