Real results. Real people.
Yes, they were skeptical too.
I've always tried to eat healthy, but nothing seemed to work. I refused to take any type of medication and always looked for natural solutions.
My total cholesterol dropped 51 points, my LDL dropped 43 points, and I saw an improvement in my triglycerides.
I find Step One foods simplify and make consistency easy… your [products] make it easy to travel or be away for the day and never miss the nutrients!
My LDL improved by more than 80 points. I'm a physician and I did not believe it was possible, so I tested my cholesterol at two other facilities. The tests confirmed the results were real and I was thrilled.
Clinical proof in every bite
Step One Foods was shown to lower cholesterol in as little as 30 days. See the results from a Mayo Clinic & University of Manitoba study.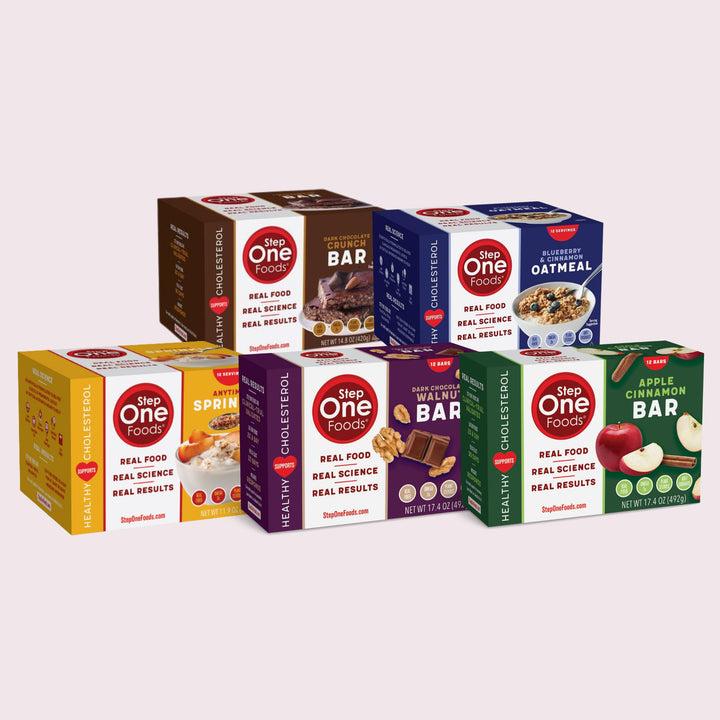 Starter Pack $2.25 per serving
Clinically formulated to block cholesterol absorption and reabsorption in the digestive system, two daily doses of Step One Foods actively reduce the amount of cholesterol in the bloodstream.
Take the first step towards better health with The Starter Pack. A full 30-day supply of products to be eaten as a meal or snack twice a day for at least 30 days to see results!
For full nutrition information click on each of the product names:
Made with only the finest ingredients, our products contain no preservatives, additives, colors, or flavors.